charlotte riley-webb
SCANNING HER CAREER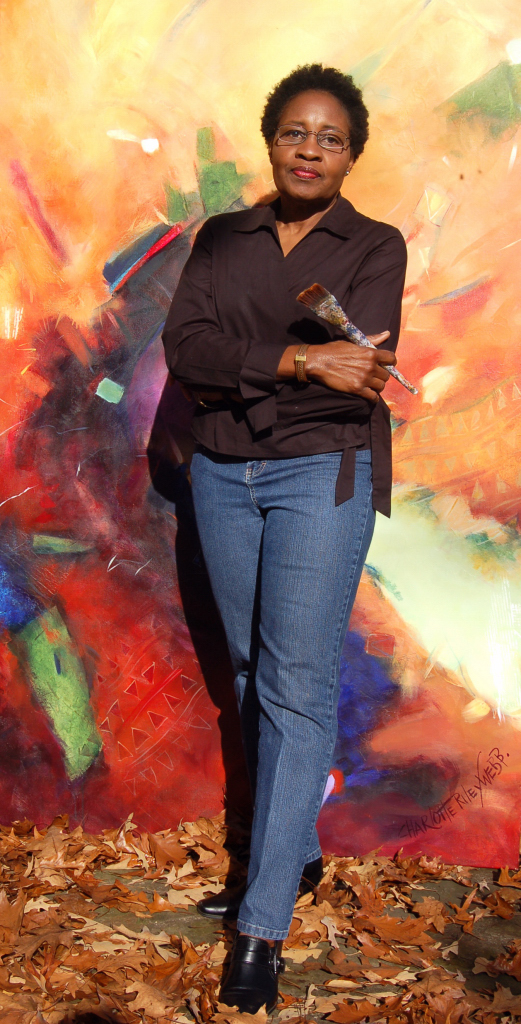 An Atlanta native, Charlotte Riley-Webb moved with her family to Cleveland, Ohio as a toddler, where she was educated in the public school system and earned her B.F.A. degree from The Cleveland Institute of Art but has continued her education throughout the years. As a professional visual artist, Charlotte documented the essence of her culture in her three year traveling painting exhibition, "From Stories of My America", which debuted at the Hammonds House Museum in Atlanta in 2001 and exhibited in seven different museums and fine art galleries in the south. Over the years her venues extended across the country and beyond the states to include Surinam, South America and Anguilla, British West Indies. Webb's work is included in numerous, private, business and corporate collections. Her public works installations include Faces and Phases of Fulton, a mural size painting installed in the Fulton County Public Service office in Atlanta and the installation of her collaborative medium, "sculpted paintings" which she creates with her sculptor husband, Lucious. The couple installed an outdoor public arts work in the concert district of downtown Hampton, Virginia for which they were awarded "The Hampton Arts Commission Award of Excellence" and their piece, "Sounds of Perpetual Spring", was voted as the city's People's Choice Purchase Award for their permanent collection. They installed "Arts Alive", the commissioned sculpted painting in the fall of 2010, at the new arts center in Shreveport, LA. Contemporary realistic with an abstract flair is how she described her representational works. This rhythmic style with bright bold colors, easily translated into the illustrations for six children's books Rent Party Jazz, Sweet Potato Pie, The Entrance Place of Wonders, Today Around Our Way, as well as Seed Magic. Charlotte was one of twelve artists contributing to the 2010 NAACP Image Award winning, Our Children Can Soar published by Bloomsbury Books.
While building her fine art career, she opted to address the need for socialization and creative expression in several of Atlanta's senior facilities, at that time an overlooked population. Charlotte taught art classes to senior citizens as a volunteer for thirteen years from1984-1995 then again in 1998-2001. An art gallery for the senior students' work was opened in one of the high-rises and Charlotte was awarded materials grants by the City of Atlanta Bureau of Cultural Affairs. For this effort in 1987, Webb was awarded the Iota Phi Lambda Visual Arts Award granted in eight different areas of community service. A natural teacher, she also successfully completed two summer residencies, teaching abstract art, to inner city youth in Shreveport, Louisiana in 2009 and 2010, offering an alternative to gang violence and idle time. As a result two of her student graduates are considering a career in the arts.
An evolution of study, growth and expansion has led Charlotte to her new and present genre, abstract art. She began the process by studying with two of this country's premier abstract artist, the late John T. Scott of New Orleans and Moe Brooker of Philadelphia. This opportunity aided her in finding her own "abstract niche" and helped propel the career which she had been hinging on for many years, even in her representational works. Of the national juried competitions which Charlotte has entered with this genre she has thus far received several first place awards and induction in NAWA. Becoming a 2006 Pollack-Krasner Foundation Award recipient further validated her current genre. In 2005, '06 and '07 she received and successfully completed an artists' residency at the Hambidge Art Center in the Georgia Mountains. It was during these times that her canvases expanded beyond six feet. Being awarded a month fellowship to the Vermont Studio Arts Center, in May 2010 also afforded her the time and space to expand her canvases and cultural acquaintances; Charlotte was one of two finalists representing the southeast at Art Basel in Miami in 2011.
Among her current associations and gallery affiliations are The National Association of Women Artists, (NAWA) New York and its local Florida chapter, and The African American Arts Alliance, Indianapolis, IN, The Artist's House Gallery in Bryson, NC, and Zucot Gallery, Atlanta. NAAHBCU, an association of artists related to historically Black colleges. Her association was with the work that she did at Tougaloo College, in MS during several summer residencies. Her rhythms continue to resonate far beyond the boundaries of her canvas and interest in different cultures across the globe; likewise the abstract works and book illustrations have transitioned into her Charlotte Riley-Webb energy and style. She has woven her shapes and colors into compositions which she calls "Earth Tunes", which she feels are as valid, and have as much emotional power as music. "My Earth Tunes" series is a collaboration between the rhythms of nature and my earth tones' palette, directly or indirectly spun from its melodies. These sounds that mirror the earth's palette are integrated into unique colorful schemes that often dance across the canvas in staccato strokes and marks. A good example of a direct coalition of this theory can be viewed on the video of national music composer Meira Warshauer in her production of "Living, Breathing Earth. In it Meira uses Charlotte's art to simulate the sounds of the cicadas, birds and background sounds of nature. www.meirawarshauer.com/NEW/pages/breathing_earth.html
"Throughout the years, I've found the literary genre almost as fulfilling as painting and have written a number of poems, short stories and screen plays and I am currently writing a novel. I've used some of my writings and those I've read or heard as a child to foster a series of visuals. These "lines" extracted from these works are truly metaphors for life and the impetus for what I feel is a personally intriguing series of paintings. Reflective in this series is the journey through my life; a colorful kaleidoscope of opinions and experiences." Her series, "Still Running Lines Through My Head", highlighting the written memories and experiences of this artist, debuted at the Hammonds House Museum in November 2010 in her retrospective exhibition, "No Crystal Stair", then to the NAAHBCU Museum in Montgomery, in Spring, 2011 and opened in May 2012 at the Bessie Smith Cultural Arts Center, Chattanooga, TN. This series in part was on display with the Premier Art team in Atlanta, at the Zucot Gallery in Castleberry Hills, their new permanent location. Charlotte was one of fifteen artists selected to commemorate the 50-year anniversary of the Freedom Riders journey through the tumultuous south in May of 1961, in the exhibition opening of the museum in their honor. Her painting "Solidarity in Song" was a popular addition, and was on display in the historic Freedom Riders Museum in Montgomery for a year after the museum's 2010 opening.
Whatever genre Charlotte Riley-Webb chooses to work, her bold, colorful palette and rhythmic style remains the signature of art. Upcoming is Charlotte's exciting new project: "Blood Rhythms, Strange Fruit" which will debut in 2014 promises to explore yet another layer of this artist.
Contact studio:

(678)284-1770

.

Contact charlotte via email: