CHARLOTTE RILEY-WEBB
who is the person behind the brush
You have been familiar with Charlotte Riley-Webb's art for over thirty years, but who is the person behind the brush strokes that dance so gracefully across the canvas. Charlotte is the wife of a wonderful, talented gentleman, Lucious Webb, an artist himself. She is a mother of one, the stepmother of three and grandmother of nine. Charlotte so loves the work and life that she has been blessed with, but finds pleasure in a multitude of activities.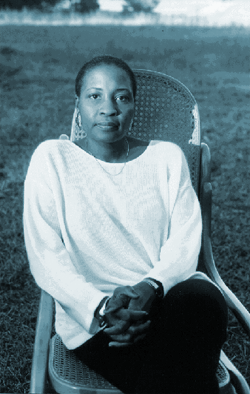 A Christian and member of New Life Church in Decatur, Georgia, she serves on the Hospitality Ministry where she greets the members and guests at the door one Sunday a month. She enjoys cooking and loves to share with family, friends and community. Every Saturday morning at seven A.M. you will find her in the kitchen at the church community center cooking breakfast with five or six other members for the forty to sixty homeless persons that the church serves, clothes and ministers to every week. For years Charlotte has also prepared meals in her home and delivers them weekly to elderly friends in her quest to help keep them independently living in their own homes. She is a person with compassion and a good heart who loves and cares for others, whether it is sitting with a sick friend or cleaning the homes of the elderly. She has used her artistic gift to help others as well; among them, painting a large mural on the walls of a transition house in Atlanta for homeless families, and donated art to raise money for those in need. She also taught art to classes of senior citizens as a volunteer, weekly, for thirteen years often funding the classes herself. She still treasures their gifts of appreciation and smiles in return for her efforts. She enjoys traveling and experiencing other cultures, especially as it relates to the arts. She has logged in sky miles to Brazil, Senegal, Surinam, Europe and Anguilla, BWI among others.
Charlotte embraces all of the arts, and while still struggling with The Electric Slide, she is proud to say that she has mastered the Cupid Shuffle and is also very familiar with the words, "And….Action"! Her initial dramatic role was as a runaway slave in a short film, Red Light, Green Light by Torkwase Dyson, produced and first presented at the Tougaloo Art Colony in Jackson MS in 2005. " Since then, she has been cast in several stage productions by director AJ Jerrick with AJ Productions. Her roles have included Violet, the rather feisty, flirty member of a financial club; Mae, the uppity mother of a family torn between right and wrong; to the monologue of the strong, intense character of Sojourner Truth as well as appeared on several Tyler Perry movies and sitcoms. Charlotte, a gifted writer as well, has written several stage productions, and is presently working on the script for a screen play.
She enjoys reading and music. Her current favorites are novels and old jazz, but appreciate the contemporary works of John Legend and Cassandra Wilson. Once a tennis player, fitness is important, but she savors the decadence of good chocolate and occasionally fine wine. Honest and unpretentious, Charlotte values her many friendships and continually strives to reach her own levels of high expectations both in her professional and her personal life. She says that anything that she puts in this universe, whether its kindnesses to others, or her unique artwork, when it is done, she wants to be satisfied that it was her best effort. A bit complex with a simple ideology of understanding and doing right.
This is Charlotte Riley-Webb.